Hi Everybody!! Today, I am going to share the methods to Disable Comments In Gutenberg. It is very easy to disable comments in Gutenberg. Comments can improve a blog in many ways. They add a kind of discussion to your blog and form a community. So, why would anybody disable comments for his whole website or just a single post?
He would this because comments are often spam, promotional and to hurt someone. Also, moderating comments takes some of your precious time. Disabling comments also increases the speed of your website.
But, it's good if you have comments in your post as they add up to your post and people start connecting to it. That's why a lot of websites have enabled the comments.
Must Read: How To Disable Autosave In Gutenberg Editor
How To Disable Comments In Gutenberg
Method 1: Disable Comments On All Posts                           
Log in to your website's WordPress Dashboard or Admin Panel.
Now hover on Settings → Discussion. This will open a new page of Discussion Settings.
On this page in 'Default article settings' uncheck the 'Allow people to post comments on new articles' option.
This will disable comments on all posts and will also override the comment settings done for previous posts.

Method 2: Disable Comments On Posts Individually
Open an existing post or create a new one by clicking on Posts → Add New.
Now, on the right side, click on Discussion tab.
Just uncheck the checkbox of 'Allow Comments'.
This will disable the comments for that particular post.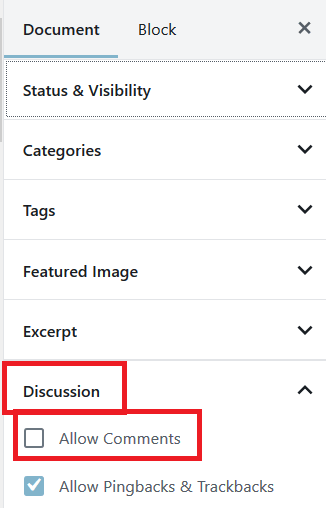 Method 3: Disable Comments Using Plugin
This method is done by using Disable Comments plugin.
To use this method just got to Add New Plugin.
Search for Disable Comments, install and activate the plugin by Samir Shah.
Now, go to Settings → Disable Comments. There will be two options:-

Everywhere – This will disable comments all over the site.

On certain post types – This option includes further three option. You can choose the option which will best suit you.

You can choose any one of the options. Choosing any option will disable comments as well as trackbacks and pingbacks.
Must Read: How To Disable Gutenberg In WordPress
So, these were the 3 methods to Disable Comments In Gutenberg. If this post was helpful to you in disabling comments in Gutenberg then please share it with your friends and colleagues. Moreover, if you have any doubts/suggestion regarding the post the, please comment in the comment box below.