Hi Everyone!! This article will share Notice Writing Format – How To Write a Notice.
A notice is a short and concise piece of writing, displayed in order to convey factual details like news and information. It is a method of communication which is to the point and is used to convey a message to a large audience. It is mostly advertised by being posted on notice or display boards, and in a few cases, are published in newspapers or magazines. In one of my previous posts, I have shared the Informal Letter Writing Format so, you can check that post as well.
Notice Writing Format – How To Write a Notice
The format of a notice should include:
Name of the institution/issuing authority
Notice
The issuing date of the notice.
Title
Body of the notice
The name of the person or organisation issuing the notice.
The date, time and venue, in case of an event or invitation.
Features of a Notice
It is always written in a box.
The title must be attractive. Increase the appeal of the notice by using bold letters, exclamations, words and phrases.
Include all the points and all questions such as, when, where, how, what time, etc. must be answered.
As it is a formal document so, the language should be formal.
The sentences must be short and grammatically correct.
The body of the message must not exceed fifty words.
Write in the third person. Words like 'I' and 'We' should be avoided.
Notice Writing Format
The name of the organisation and place of issue aligned at the centre.
Write 'NOTICE' in the centre.
The date of the issue aligned to the left-hand margin.
After the date, the title/subject of the content of the notice must be written, aligned centre.
The content of the notice should follow immediately after the title and must be brief and specific, aligned to the left-hand margin.
To end the notice, the name of the issuing person or authority must be placed aligned with the left-hand margin followed by the designation of the respective person.
Lastly, the notice must always be written inside a box.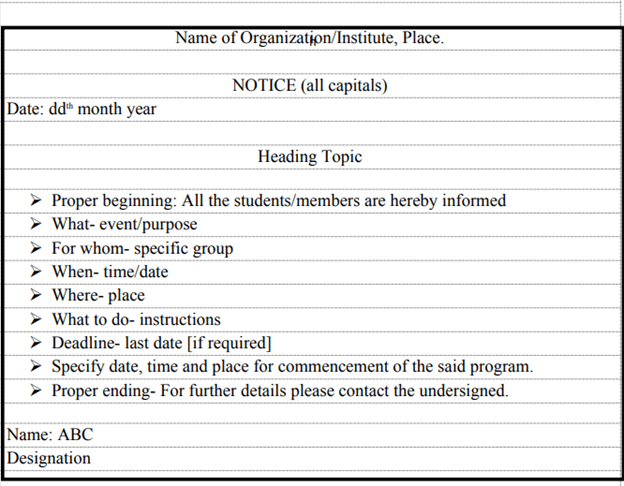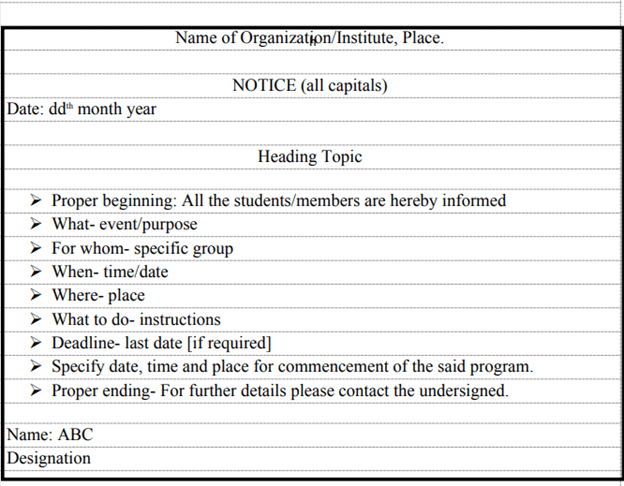 Example:
You are Nikhil/Prapti, the Head boy/Head girl of ABC International School, Chandigarh. Next month, your school will be publishing Annual Magazine. Write a notice for the notice board of your school inviting students to submit the write-ups. Give the necessary details.