Hi Everyone!! Today, I am going to share 5 Best WordPress Push Notification Plugins.
These are some questions which arise while adding web push notification plugin.
What devices do the plugin or the service support?
Almost all the services support Mozilla and Google Chrome. But it is very difficult to find a service which supports Safari and this can be a problem if you have a lot of visitors visiting your site.
What additional features does the service offer?
You can think of features like A/B testing, scheduling, segmentation and more.
How many subscribers will you have?
Some services can cost a lesser money than others, depending on how many subscribers you will have.
5 Best WordPress Push Notification Plugins
1. Pushengage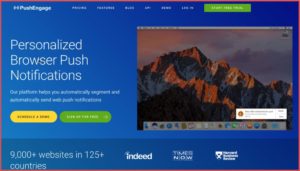 First on my list of best WordPress Push Notification Plugins is Pushengage.
It is a standalone service for web-push notifications and mobile.
Furthermore, it has a WordPress plugin which helps in easy integration of the service to your site.
It not only lets you send notifications on mobile but also on desktop versions of popular browsers :

Mozilla Firefox
Google Chrome
Samsung Internet Browser
In addition, it has many more features which will assist you in sending push notifications in a better way:
Easy Segmentation – Segment your visitors based on from which URL and browser they will receive. So that you can send them notification which you think they will like.
Automatic Responders – You will be able to send notifications based on your visitor's actions.
Geotargeting – You can send push notifications to users from specific locations.
Call to action buttons – Add one or more call to action buttons.
RSS to notification – The feature to set up RSS feed to instantly notify people about a new publish without manually doing that.
Personalized cart abandonment features – It is a very useful feature for e-commerce websites.
Pushengage is a free service up to 2,500 subcribers and 1,200 notifications per month. To extend the package, you need to pay $29/month.
Create an account on Pushengage
2. OneSignal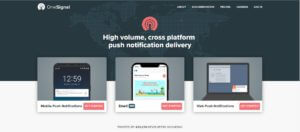 Second on my list of best WordPress Push Notification Plugins is a standalone push notification service which is OneSignal and it can be easily integrated with WordPress, thanks to its plugin.
OneSignal's supported devices are:

Safari (Mac OS X)
Chrome (Desktop and Android)
Firefox (Desktop)
Furthermore, it has many similar features as compared to Pushengage.
A/B Testing – It run split tests to find highest perfoming notification messages before you send them to your whole audience.
Automatic Notifications – You can send automatic notifications based on a set time.
Segments – The ability to target your visitors by a number of distinct user attributes.
Scheduling – Schedule your notifications for future date so that it can send it automatically.
It is completely free with no limitations but they also offer premium plans for an upgrade.
Create an account on OneSignal
3. PushCrew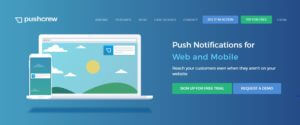 Furthermore on my list of best WordPress Push Notification Plugins is PushCrew
It is another popular push notification service which comes with user friendly plugin to easily integrate the service with WordPress.
It has a very small list of supported devices which are as follows:

Firefox (Desktop)
Chrome (Desktop and Android)
However, it has a lot of features for its small list of supported devices.
CTA Buttons – You can display on or two CTA buttons in your notifications.
Segment Creator – It is a tool which can help you segment your visitors.
Expiry notifications – If you're running a timed deal this service will not show the notification after the deal is expired.
Scheduling – Send notifications on a specific time in future.
RSS Support – Automatically notify your subscribers when you upload a new post.
It comes with a free plan of unlimited notifications to 2,000 subscribers. This can be upgraded if you exceed the number of subscribers.
4. PushAssist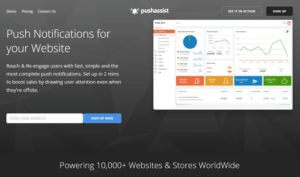 Similar to previous services, this is also a standalone push notifications dervice and comes with a dedicated WordPress plugin.
But this one has a long device support list.

Firefox (Desktop and Android)
Chrome (Desktop and Android)
Safari (Mac OS X)
It also has a features similar to some features of previous services.
Personalization – It helps you deliver personalized messages but requires some setup.
Segmentation – It segments subscribers based on interests, location and other data.
Scheduling – Helps schedule notifications for specific date and time.
It has a free plan of sending unlimited notifications to 3,000 subscribers. Paid plans start from $9.
Create an account on PushAssist
5. All Push Notification for WP

The last on my list of best Wordpress Push Notification Plugins is All Push Notification for WP.
It's a free WordPress plugin which has no monthly cost and all the setup is done on your WordPress dashboard instead of a third party service.
It does not require technical setup but only supports mobile devices.
All push notification for WP supports mobile push notifications via the following services:

Apple Push Notification service (APNs) – for iOS devices
Firebase Cloud Messaging (FCM) – for Android devices
So, these were 5 Best WordPress Push Notification Plugins which can help you give a better start to get returning traffic.