Hi Everyone!! This article will share Be A Friend Stanza Wise Summary.
In my previous posts, I have shared the questions & answers of Why Evergreen Trees Never Lose Their Leaves and A Visit to Kaziranga so, you can check these posts as well.
Be A Friend Stanza Wise Summary
The poem is written by Sir Edgar Albert Guest.  He was an American poet of the 20th century and was born in England. He was widely known as 'People's Poet'. His poems are filled with inspiration and positive views of everyday life. His first poem appeared on 11th December 1898. He had written around 11,000 poems which were promoted through 300 newspapers. He was made the Poet Laureate of Michigan and was the only poet to have been awarded this title.
The poem is short, simple and light-hearted one. In this poem, the poet encourages us to show compassion to others and to be helpful and kind.
Stanza – 1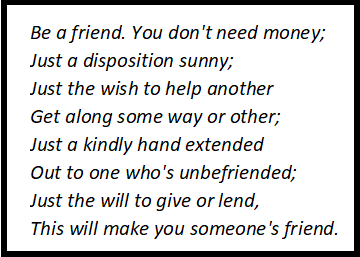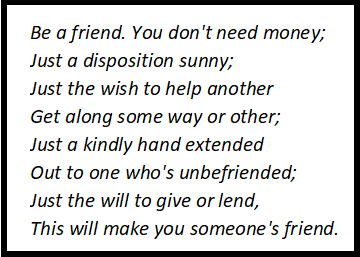 In the first stanza, the speaker explains that it does not cost money to be a good friend. We just have to have a cheerful, helpful, generous attitude and the willing to always be present for others in times of need.
Be A Friend Stanza Wise Summary
Stanza – 2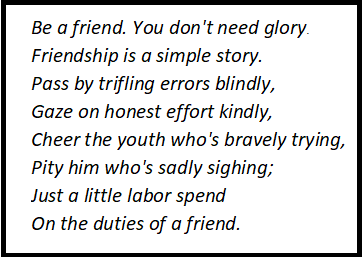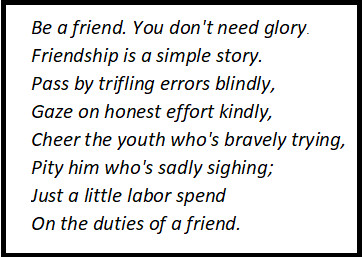 This stanza lists some of the duties of friendship. We should forgive our friend's little mistakes and encourage them in whatever they are trying to do. Only when we share their sadness is when we will also be called a good friend.
Stanza – 3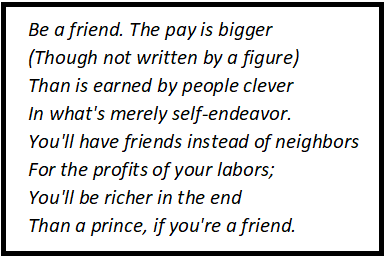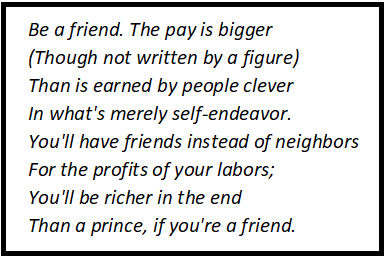 The third stanza points out that all those smart people who only work for their own benefit, earn a lot of money but they cannot earn a more valuable kind of wealth which can only be obtained by being friendly. When we are successful in making all of our neighbours our good friends, it is only then that we can be called being richer than a prince.
So, this was Be A Friend Stanza Wise Summary.