Hi Everyone!! This article will share A Trek Through The Himalayas Explanation.

This poem is written by Srinjay Chakravarti. In this poem, the poet has shared his experience of trekking to the Himalayas. He has unfolded every bit of the difficult task. In my previous posts, I have shared the questions and answers Those Six Days, Sir Lawley's Ghost and Salim and Tansen so, you can check these posts as well.
A Trek Through The Himalayas Explanation
Word Galaxy
Shrouds – here, coverings
Pallid mist – light fog
Gilds – covers thinly with gold
Grail we seek – here, a thing we try very hard to find or achieve
Gelid – icy, extremely cold
Purged – cleansed of bad thoughts and feelings
Traverse – here, travel
Untrodden – not having been walked on
Explanation

Stanza 1 & 2

"The journey …………………………………………….spreading shrouds."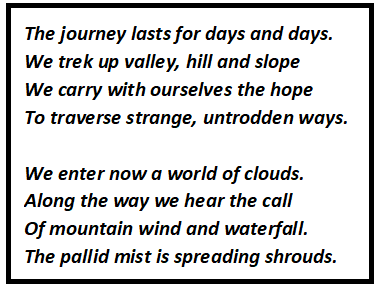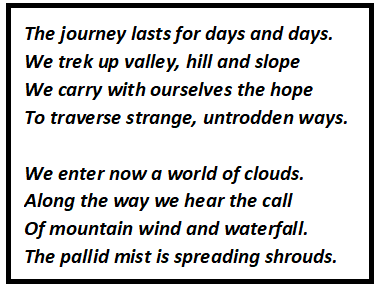 The poet in the first stanza reveals that trekking through the Himalayas is a journey of many days and a difficult one too. The trekkers climb up through the Himalayas with a positive hope of reaching the peak. The trekking is through the valley, hill and slopes, sometimes through unfamiliar and untrodden ways too.

The poet is sharing his experience when he is about to reach the peak of the mountains. He says that he feels like they are among the clouds and all along the way hear sounds of the wind and water fall which makes them feel that the mountains are calling for them.
Stanza 3

"At last ……………………………………………………… we seek."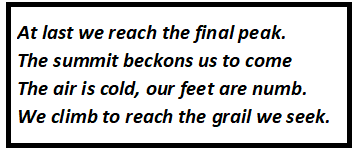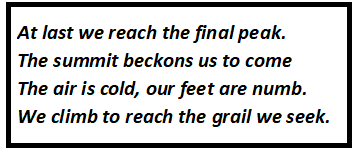 In these lines, the poet has enumerated his emotions when finally they reach the peak of the Himalayas. They are enchanted by the view from there. He says that the peak of the mountains is covered with light coverings of mist. He also says that the air on the peaks is very cold which makes their feet numb. The poet strongly feels that the summit is calling for them and so they climb with a positive hope to achieve the mission which seemed quite difficult to reach.
Stanza 4

"The path ………………………………………………… lucid air."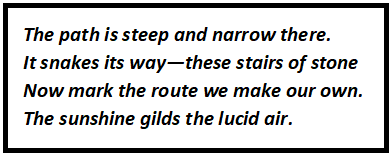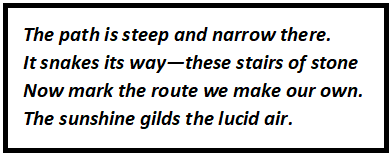 The poet talks about to route to the peak of Himalayas which is very steep and narrow. He says that they have to make their own way, as the stairs of stones only show us the path to the top. The poet expresses the beauty of the sun that shines on the coverings of mist and appear like gold.
Stanza 5

"The peak ……………………………………………………..world below."


The concluding four lines, by the poet, is the final experience from the peak of the Himalayas. It is extremely cold out there as the peaks are covered with snow. The poet is overwhelmed with happiness to see the horizon from the top. His eventual emotion expresses that their souls are cleansed of bad thoughts and feelings, (purged). It makes them feel that they do not remember anything about the world below.

So, this was A Trek Through The Himalayas Explanation.