Hi Everyone!! Today I am going to share with you the Best Antivirus to protect your PC. Protecting and ensuring that your laptop is virus free is a cause for concern in 2018 as we store much of our information online and on our laptops. Viruses, Cybercriminals, malware etc. then try to hack or infect our computer. That's why I have a created a list of Best Antivirus to protect your PC.
Make sure that complete suite of security tools that the antivirus can provide. If you want the whole protection of your computer then investing money in the best antivirus is a good idea. My guide will provide with the option of the best antivirus with best prices for your PC's protection.
Best Antivirus to protect your PC
1. Bitdefender Antivirus Plus 2019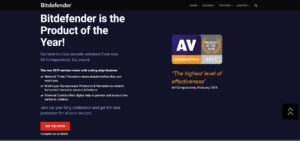 It is reliable and accurate in virus vanquishing, a password manager which auto-completes your login details and credit card details in a web form.
It comes with a secure browser that keeps your transactions and online banking safe.
Has a web filter which blocks access to malicious sites.
It scores high for the excellent anti-phishing module. This alerts your access to malicious links in your search engine and blocks dangerous sites.
The 2019 version offers multi-layer ransomware protection which notifies you about the behavior of threats.
It has the ability to scan all your linked devices with Bitdefender Central mobile app. This is easy for you to check the status of all your
Pros
Accurate
It comes with a password manager.
It has a cheap subscription.
Cons
It has more resources than average and might conflict with some programs.
[maxbutton id="1″ url="https://www.bitdefender.com/solutions/" text="VISIT/BUY" ]
2. Webroot SecureAnywhere Antivirus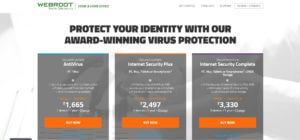 It is the most lightweight antivirus. Its installation takes second and the files are of just 2MB.
The package comes with smart behavior monitoring, a firewall and real-time antiphishing.
It also has network connection monitor, enhanced anti-ransomware and may more.
Webroot SecureAnywhere Antivirus has 70 days 100% money back guarantee.
Pros
Light on system resources
Very Fast
Cons
No Testing from top labs
[maxbutton id="1″ url="https://www.webroot.com/in/en/home" text="VISIT/BUY" ]
Must Read: TOP 3 BEST WORDPRESS SECURITY PLUGINS
3. Norton Antivirus Basic 2018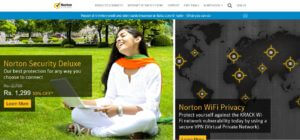 It can protect your PC automatically.
It has a handy URL blocker that keeps you away from malicious links.
Its intelligent behavior monitoring which kills any kind of malware.
The bundled Norton identify Safe has a password manager.
Pros
Blocks every kind of malware.
It has less impact on resources.
Cons
The Browsers extensions sometimes don't work.
[maxbutton id="1″ url="https://in.norton.com/" text="VISIT/BUY" ]
4. ESET NOD32 Antivirus 2018 Edition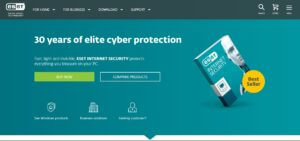 It has real-time malware protection and a URL filtering to block malicious sites.
It also comes with exploit protection and anti-ransome layer.
Pros
It has device access control.
It is highly configurable.
Cons
Comparatively expensive
Not Recommended for Beginners
[maxbutton id="1″ url="https://www.eset.com/sg/home/internet-security/" text="VISIT/BUY" ]
5. Kaspersky Anti-Virus 2018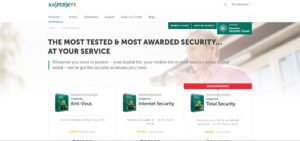 It has URL web filtering to block dangerous websites.
Kaspersky Anti-Virus 2018 also comes with smart monitoring technology.
It is the best at blocking malware.
Pros
Best performing security packages.
It is easy to use which is perfect for beginners.
Cons
Full suites are better.
[maxbutton id="1″ url="https://www.kaspersky.co.in/home-security#pc" text="VISIT/BUY" ]
So, these were some Best Antivirus to protect your PC.