Hi Everyone!! This article will share India – A Kaleidoscope of Cultures Questions & Answers.

In my previous post, I have shared the questions and answers of The Government and Its Formation and Deciphering the Stereotypical Society so, you can check these posts as well. I have also shared India – A Kaleidoscope of Cultures Objective Type Questions & Answers so, make sure to check that post also.
India – A Kaleidoscope of Cultures Questions & Answers
Question 1: What do you mean by diversity?
Answer: Diversity means differences among groups of people and individuals based on ethnicity, race, socio-economic status, gender, exceptionalities, language, religion and geographical area.
Question 2: State any twelve languages that are recognised by the Constitution of India.
Answer: These twelve two languages are Assamese, Bengali, Bodo, Dogri, Gujarati, Hindi, Kannada, Kashmiri, Konkani, Maithili, Malayalam, Manipuri, etc.
Question 3: Name the important dance forms of Manipur.
Answer: The important dance forms of Manipur are Manipuri, Kartal Cholom or Cymbal, Pung or Manipuri Mridanga, Maibi Dance.
Question 4: How is India a secular country?
Answer: India is a secular country; nevertheless, it is the abode of the major religions of the world. India is the birthplace of religions such as Hinduism, Buddhism, Jainism and Sikhism. Other religions such as Christianity, Islam, Judaism, etc. became part of our Indian culture. It is also home to various aboriginal beliefs and tribal religions. The harmonious co-existence of different religions in India makes it a unique place to live in.
India – A Kaleidoscope of Cultures Questions & Answers
Question 5: Write a brief note on the handicrafts of Kerala. 
Answer: Coir and cane products are used to make eco-friendly objects such as coir mattresses, floor furnishing, mats and other colourful articles. Sandalwood carving is the crafting of beautiful things with sandalwood such as boxes, small models of animals, Kathakali dance postures and candle stands.
Question 6: 'Unity in Diversity' has been the distinctive feature of our culture. Explain.
Answer: India is a land of diverse cultures, communities and religions. India also has a very rich tribal culture. The traditions, practices, way of living and customs varies in each part of the country. Each part of the country depicts different customs and traditions. Although we speak different languages, follow different customs and traditions, we are all Indians. 'Unity in Diversity' has been the distinctive feature of the cultural heritage of India.
Question 7: Compare the regions of Kutch and Ladakh with references to their food and clothing.
Answer:

1. Food

Ladakh
The most well-known Ladakhi food items are Thupka or noodle soup and tsampa made up of roasted barley flour and skyu, a heavy pasta dish with root vegetables. Ladakhi tea, also known as gurgur cha or Butter Tea is unique as it is made with strong green tea, butter and salt.

Kutch
The typical Kutchi cuisine consist of roti or rotlas made up of bajri or millet, curd, butter milk or chhas, dal, curry, vegetables, papad, kachumbari. 'Khichhdi' made of rice and dal is also relished by everyone.

2. Clothing

Ladakh
Goncha, a huge robe of thick woolen cloth with a colourful cloth tied at the waist is the most common Ladakhi dress; loose pyjamas, a top hat and long boots finish the attire. There is little disparity in dress for men and women. Ladakhi women wear a beautiful headdress called perak.

Kutch
Women wear chaniya (skirt) – choli (blouse) with chunaris, which are beautifully embroidered and with mirror work. The menfolk wear loose trousers, a long-sleeved under-jacket and a short coat with a plain or silk bordered cloth.
Question 8: Picture-Based Questions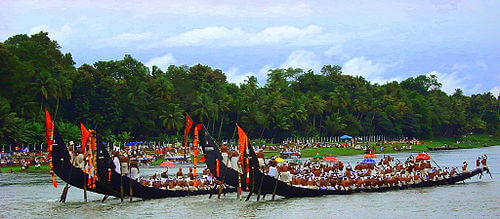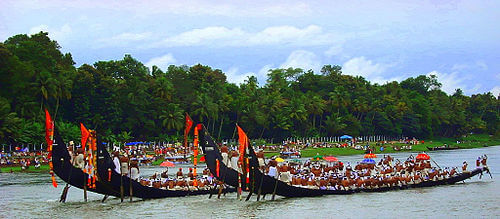 (a) Identify the picture.
Answer: Snake Boat Race
(b) When and where is it carried out?
Answer: It is carried out on the banks of the river Pamba at Aranmulla on the fifth day of Onam.
(c) Describe the boats.
Answer: The boats are about 30 metres long and have a seating capacity of 150 men. The boats are made of teak and the coiled ends of the boats are shaped like cobra hoods. They are elegantly adorned with green and crimson silk umbrellas.

So, these were India – A Kaleidoscope of Cultures Questions & Answers.