Hi Everyone!! This article will share The Land of Counterpane Stanza Wise Summary.

Written by Robert Louis Stevenson, this poem is a window into his childhood. It shows us his early use of imagination to help him through difficult days. In my previous posts, I have shared the questions and answers of Heidi, The Land of Story-Books, Daddy Fell into the Pond and Cousin Helen's Visit so, you can check these posts as well.
The Land of Counterpane Stanza Wise Summary
Stanza – 1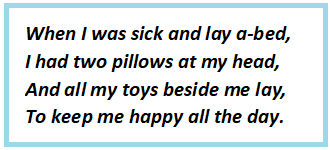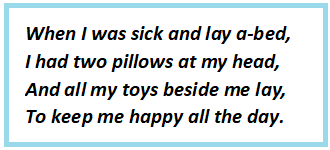 In this stanza, the poet recalls the time when he was sick and had to stay in bed with only his toys to give him company. He uses his imagination to get over his boredom and plays happily with his toys the whole day.
Stanza – 2


In the second stanza, he watches his toy soldiers for about an hour. He imagines them in different uniforms, marching up and down among the sheets and pillows. In his imagination, his pillows became hills and his sheets were transformed into plains or flat land.
Stanza – 3


In the third stanza, he imagines his bed to be a sea and the folds of his sheets, the waves. He sets up his ships in fleets and imagines them to go up and down the waves. Then, he imagines setting up trees and houses to form cities.
Stanza – 4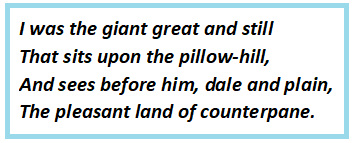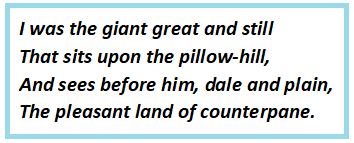 In the last stanza, the poet calls himself a giant because in comparison to him his toys are very small. It is probably evening and he has been playing with his toys the whole day. By now, he must be tired and he sits on his pillows, which he imagines to be a hill and looks at the beautiful scene before him – the hills, the valleys and the plains which he has created using his toys.

So, this was The Land of Counterpane Stanza Wise Summary.