Hi Everyone!! This article will share From a Railway Carriage Stanza Wise Summary
Written by Robert Louis Stevenson, the poem is a record of the poet's journey in a train. It communicates the poet's thoughts and observations when he was sitting in a railway carriage.

In my previous post, I have shared the questions and answers of – From a Railway Carriage, Pumpkin in a Jar and The Passive Voice so, you can check these posts as well.
From a Railway Carriage Stanza Wise Summary
Stanza – 1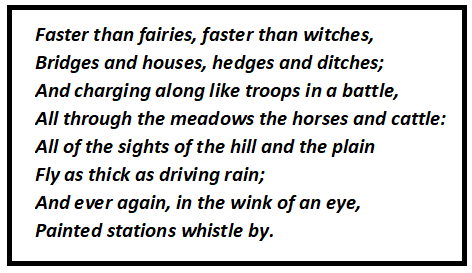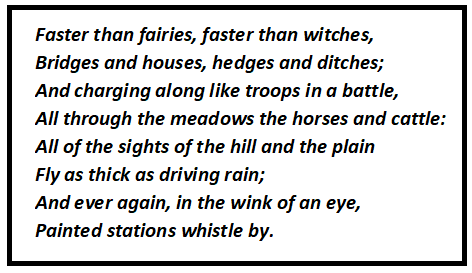 In this stanza, the poet describes the sights that he notices while travelling in the train. He says that the train runs faster than the fairies (an imaginary creature with magic powers) can fly and the witches can move. The train moves or rushes forward like the way the soldiers attack their enemies in the battlefield. It rushes on leaving behind bridges, houses, fences and ditches (drainage at both sides of the road) and also the green fields where horses and cattle are grazing. The poet further says that the train crosses all the scenes of hill and plain as quick as one drop of rain follows another drop in a storm. In the next moment, the train passes railway stations with a whistle and the stations look like painted pictures.
Stanza – 2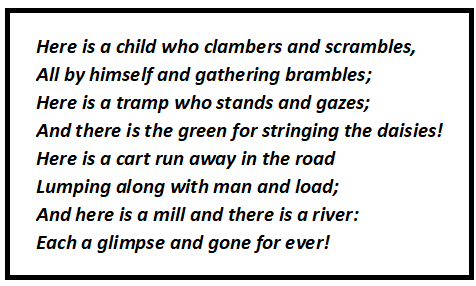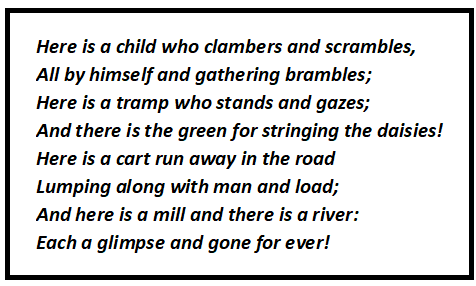 In this stanza, the poet sees a child climbing a steep ground with difficulty through the window of his compartment. During climbing, he was also gathering blackberries. As the train moves forward, the poet also sees a homeless person looking at the train with amazement. He also sees some ladies in a common village grassy land making garlands with daisy flowers. The poet then sees a cart full of load with a cart driver sitting on the top of the load, moving slowly on the highway. While travelling in the train, he also gets a glimpse of a mill and a river by its side. All these objects appeared and disappeared so quickly that the poet could only get a glimpse of them and they can never be seen again.
So, this was From a Railway Carriage Stanza Wise Summary.