Hi Everyone!! Today, I am going to share How To Create Reusable Block In Gutenberg Editor. Do you regularly use the same content blocks? If you use, then you will love the reusable blocks. It permits you to save any content block and reuse them in any post.
In this post, I will show you the steps to easily create reusable block in Gutenberg editor. I will also show you how to add these reusable blocks in other posts and pages.
Must Read: How To Edit Old Posts With Gutenberg Editor
What is a Reusable Block in Gutenberg Editor?
A reusable block is a block which is actually a content block saved to be used later.
Many people save their content snippet as files to use them later by the copy and paste method.
Gutenberg editor solves this problem by launching the reusable block.
Below are some ways in which a reusable block can help you:-
Reusing tables
Adding forms to your pages
Adding call-to-action buttons to your posts
Easily adding inline affiliate banners
And many more…
Must Read: How To Disable Autosave In Gutenberg Editor
Now, let's take a look at how to create reusable block in Gutenberg editor.
How To Create Reusable Block In Gutenberg Editor
Step-1
Create a fresh post or edit an old post.
Now click on Add new block button an then choose your block which you want to save.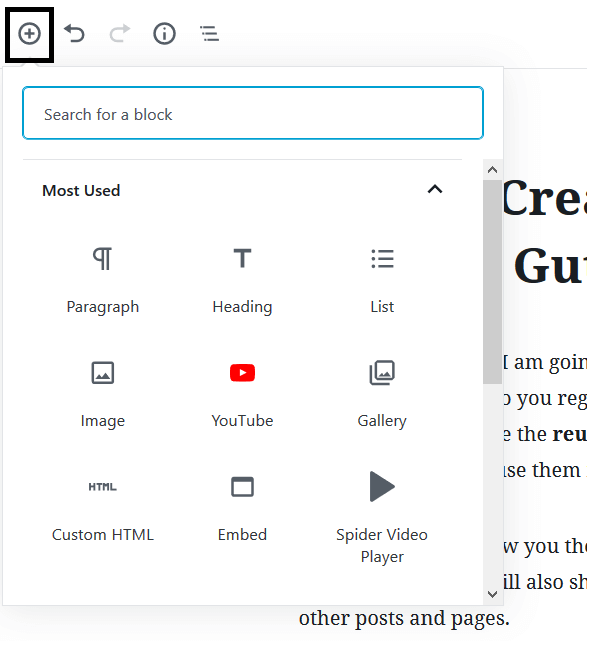 Step-2
For example – I am adding the paragraph block and writing something in it.
Like the same way, add the content to your block.
After editing, click on the Three dot menu on the top left side of the block.
Now, click on Add to Reusable Blocks option.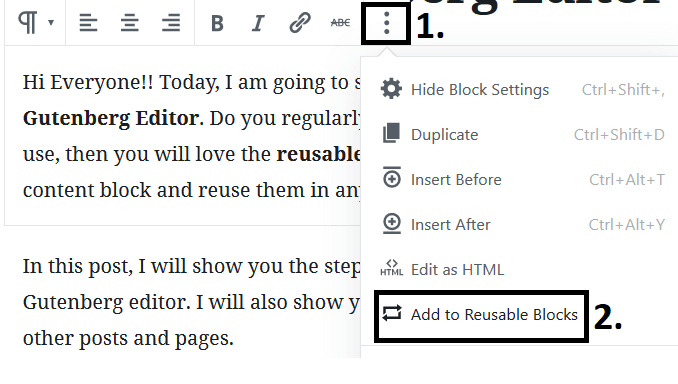 Step-3
Now, enter the name for your block which you will easily be able to see and recognize fast.
Finally, click on the Save button and boom your Reusable block has been created.
So, these were the steps to create reusable blocks in Gutenberg editor.
You can also add this block to other posts and pages. I will share how to the reusable blocks in my next post.
If you found this post useful then please share it with your friends and colleagues. If you have any suggestions/doubts then please comment in the comment box below.