Hi Everybody!! This post is about How To Disable Autosave In Gutenberg Editor. The Gutenberg update came with a very good feature that is Autosaving of the post. However, many people are facing problems with the autosave feature of Gutenberg. Some people's website WordPress dashboard or editor freezes when it starts autosaving, they say that it doesn't happen when they save it manually. In some cases, when you stop typing for a while, and start typing after it, autosave starts working and the cursor moves to the start of the block. In this post, I am going to list the steps to Disable Autosave In Gutenberg Editor. So, let's start the post.
Must Read: 2 Ways To Embed YouTube Video In Gutenberg Editor

How To Disable Autosave In Gutenberg Editor
Step-1
Log In to your website's WordPress Dashboard or Admin Panel.
Hover your mouse over Plugins present on the left menu and click on Add New.
Step-2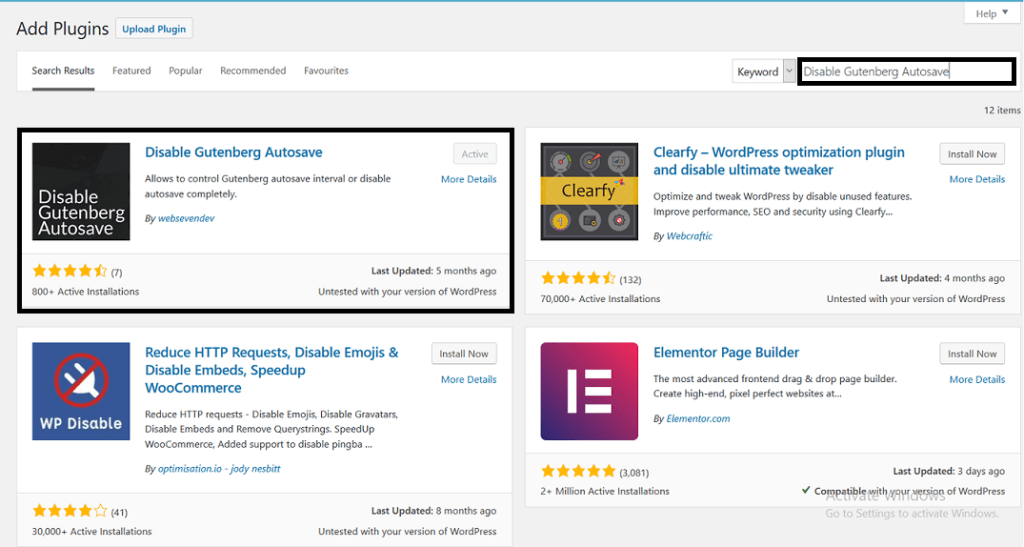 Must Read: How To Disable Gutenberg In WordPress
As soon as you activate the plugin, it will automatically disable autosave in Gutenberg Editor. If you want to change some settings of the plugin follow Step-3.
Step-3
Open any post. You will see a clock icon, click on it.
There will be a list of options to choose from. To disable autosave in Gutenberg editor choose the Disabled option from it.
Disable Gutenberg Autosave options

Disable Autosave In Gutenberg
Must Read: Steps To Add Latest Posts Links In Gutenberg Editor
Additional Information
You can also choose the time of interval from the option after which it will automatically save the post after a particular interval of time. This option will save your time and effort. But check that after enabling this option you don't have any problems like I mentioned at the start. The interval option are given bellow:-
10 seconds
30 seconds
1 minute
5 minutes
10 minutes
30 minutes
So, these were some steps to Disable Autosave In Gutenberg Editor. If you have any doubts/suggestions regarding the post then please comment in the comment box below. If hope this article was helpful and informative and you found what you were searching for. So, please share the post to spread the message.